Post by Seoirse Ui Duic on Feb 14, 2017 13:07:15 GMT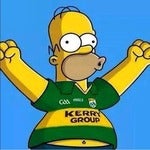 Dublin again struggled with the blanket defense, but the weather didn't do them any favours either.
Tyrone are very, very disciplined when it comes to tackling, but quite cynical when it comes to off the ball stuff.
It has been pointed out over and over, but Tyrone are still the masters at getting under the opposition skin.
Even after reading Mickey Harte's book I'm still amazed that a man who comes across as a gentleman in interviews and on the sideline can have such a negative attitude at times. It seems to be winning at all costs. It might be that it's just rhetoric to sell the book, but it does seem to be endemic in Tyrone football that as long as you win nobody cares how the game was won. I hope that is not the case, but it seems to me like that and I'm not the only one that has that perception.
Mickey Harte is a true master though at realising the players he has and what they can do. He usually gets the tactics right and does what he can to win games.
Tyrone nearly pulled it off and a very dubious free towards the end made it a draw. I don't think Jim Gavin would have been overly disappointed had the Dubs lost the game as they played well and nearly clawed back the lead. Joe McQuillan did his best to ruin the game and he did his best to level the game towards the end.
In 2011 and 2013 McQuillan didn't have the best performances in the final either and though I don't believe, like some obviously do, that he favours the Dubs, I do think he is a poor ref and the Dubs probably have their homework done on him, knowing what it takes to influence him. That said though, he didn't do Dublin any huge favours either, except for the free towards the end, and I doubt anyone left Croke Park being happy about the ref.
It is always bad if we talk about the ref after a game, but more than once those decisions by referees have ruined games.
I'm sure that anyone attending the Dublin Tyrone match will have noticed a lot more off the ball stuff, but it seems like McQuillan is a referee that often lets matches run out of control.
I'm sure that Tyrone will travel to Cavan confidently as they have beaten them more often than the other way round. Cavan might have won the first time they played this year, but I'm sure that Tyrone will be better prepared this time.
Dublin face a tough trip to Donegal though I would be confident Dublin experience will win that against a young Donegal team.
Jeez I worry about you ... In one breath you admit you werent even at the game but then go on immediately about how awful Tyrone are re "off the ball" stuff and how we're "masters of the dark arts" etc.. the same tired pathetic old cliches that youve read 10-15 years ago but still peddle out ad nauseum all these years later .. you're not alone but you are certainly the most constant & blatant at not having a feckin clue what youre talking about ...
If you think Tyrone are any different/worse than Kerry or Dublin or Mayo, you are deluded

I know, I shouldnt bother .. lol
I said masters at getting under the opponent's skin. And yes, that is a cliche, but still true.
The reason why most people still write the same way about Tyrone is because they are still doing the same thing.
And I agree that all the others are doing it as well, but Tyrone are just excellent at it.
You more than once commented on games you weren't at so I can throw that back at you.
I haven't seen every single thing that went on, obviously, but the video does give a good story.
Tyrone have a template for what they do and they do it very well. I agree with Tyrone people that Tyrone should have won the game.
I'm not blaming Mickey Harte for using whatever tactic he has to to win and he nearly beat the All Ireland champions. Against all odds and when nobody gave them a realistic chance. Tyrone are still doing very well what they have been doing very well for the last 15 years. I suppose you read the Mickey Harte book as well so you know the kind of drive and determination I meant. I know that the Kerry Mayo game saw a lot of yellow and black cards on Saturday, but the black card was almost invented because of Tyrone. Surely even you see that. How often have Tyrone games seen fights or some sort of controversy? Surely even you can count.
I'm not saying they aren't entitled to and it has lead to a lot of success for them. Counties fear Tyrone and worry about breaking down the structure and even the mighty Dublin didn't find a way. If it wasn't for that dubious free Tyrone would have won and it would have been a big upset. It's only a league game, but if Tyrone would have beaten them it would have sent shockwaves through the GAA world. The Dubs want to look invincible and breaking that magic might send the house of cards tumbling down.
So fair play to Tyrone for doing what they needed to do and almost pull it off. I don't like the style and I still have doubts it will be a winning tactic come summer, but I admit that Tyrone came a lot closer to beating Dublin than we did recently.
As summer starts though pitches become faster and the weather becomes better. Football becomes faster and the teams will have more training done.
Will Tyrone still be in the top come summer? They didn't exactly impress during the McKenna cup and were lucky that Donegal didn't take it seriously and Cavan slipped up.
Tyrone are still favourites to win Ulster and might be dark horses for the league title, but I still have my doubts about them.