Post by Ballyfireside on Jan 18, 2023 14:52:02 GMT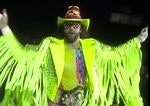 The red card was for hands to the head but I really don't think it will get more than the minimum.
I'd be very surprised if he got a "very lengthy ban" in regards to the ref given what he actually said.
He didn't insult the ref or call him any names, rather he praised him for the job he did.
All he said was he Some folk mightn't like what he said and feel a speech should always be the traditional thanking everyone, everyone and everything is great and anything negative that happened should be brushed under the carpet and forgotten about nevermind he was clearly still bleeding from a deliberate assault while making the speech.
If I was Paudie, get in contact to apologise to the ref in person as quickly as possible we saw how the referees chose to turn a blind eye to assaults on Galvin (PG got a yellow card for a punch received below the waist) and I fear Paudie will have a tough Summer from the other refs who may also turn a blind eye.
I can't see refs abandoning Paudie and what he did was bad only because it was to the head, regardless of the impact. Paudie did it openly and he was obviously in a poor mental state at that stage anyway - what refs get revenge on is if laddos are trying to fool him, drawing a markers hand, etc and then pretending to be pulled down. Dgal's Murphy got this in the '14 final and where the ref as good as told us on camera that 'sauce for the goose was sauce for the gander' and so Garda AO'M could continue to interrogate the suspect, son of a Garda also - sparks or what? Ah two hardy boyos, two of the best! And sure weren't they both handy actors too - Hollywood, Ballyfirewood beckons!
What is amazing or not is that there is so little focus on how Stewartstown arguably left victory behind them and therein is a big lesson, a harsh one. They were decent footballers and would be better again with discipline. Did the physicality hamper Fossa? - well not nearly as much as it dragged down the inflicters IMHO.