Post by Ballyfireside on Feb 13, 2022 2:12:49 GMT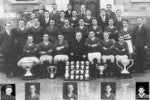 Would Tyrone have done what we did? Not a snowballs chance in hell! as Micheál O' Heir used to say.
Whether we win the All-Ireland in 2022 or any other county, one thing's for certain, Tyrone will most DEFINITELY not win it anyway. They have never, and are incapable in doing back to back All-Ireland's together. Eventhough I'm not a betting man at all, I'd put my car and my job as a bet that they won't win it this year.
A friend of mine convinced me that they will win it, when I proposed a bet of
€279!! as a bet that they will not, he pulled out immediately and changed the subject. Important to call some people's bluff.
Tyrone 2021, were for me, the worst, weakest of a the All-Ireland winners since Cork back in 2010.
Anyway, As far as an exile like me is concerned, Day out of Kerry, is a day wasted!!
Mayo for work during the week, The Promised Land at weekends for living.
Don't forget the minor semi in 2013 against us as well, to send teenagers out to play that cynicism crap - disgraceful.
Hey, someone I am friends with and who also visits the forum advises me that I should clear the air here, and reading back I think I should.
But do you know what, I was and am still condemned on here, even by a moderator, for calling out da hoors re the postponement last year. Anyone who knows what I have been through personally with naughty gangsters will know that I wouldn't be a fan of wrongdoing, but far from a peeve be I, like many I am just after a day to remember from the couch, from Stade de France to The Gaelic Grounds - thank God I was on my couch, brutal but amazing, and more of the same in Semple Stadium Sunday. Had to swim across the border to the off-license so missed Club finals.
No, Tyrone need to shape up, wan of 'em jarred me up once, if diplomatically - imagine! - about PatS puke/puic word, and my response was to point to their subsequent skill, e.g. Mugsie and Canavan's goal v us, asking da hoor which he enjoyed most - we shook paws! BTW PatS comment was of c spur of the moment, equally right and wrong, understandable given his purist DNA and equally reprehensible given we had was it 34 Sams and they had none!
There is no right answer, and hopefully there will be no answer to Chiarraí and bliain seo! Now goin' for another swim, across de border to, Tyrone!